Former Wake Forest golfer becomes TGA Premier Golf ambassador to inspire and introduce young people to the game
Youth Athletes United, the 291-unit multi-brand youth sports franchisor behind TGA Premier Sports, one of the leading junior golf programs in the industry, has announced a brand ambassadorship with professional golfer Danny Guise.
A former top collegiate player at Wake Forest, Guise is the true example of a professional player paying his dues the past six years chasing the passionate dream of qualifying for the PGA Tour. His passion and hard work, which is on display weekly as he attends Monday qualifiers on both the Korn Ferry and PGA Tour, is an inspiration for youth playing golf or any sport.
Guise will work closely with TGA Premier Golf programming providing social media, digital class content, clinics, and personal appearances with local franchises. Additionally, he will share his experiences with youth and franchisees alike about his training, strong work ethic, and determination to become a professional golfer and how to prepare for tournaments.
Golfer Danny Guise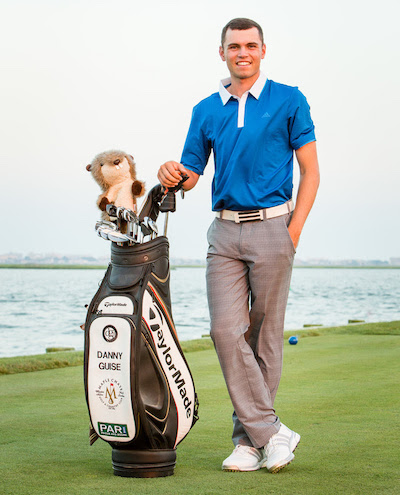 "I am really excited about joining the TGA and Youth Athletes United team. I believe so strongly in what they are doing and how they are reaching out to kids at an early age to get them involved and active in the game of golf," said Guise. "Their approach in how they teach golf fundamentals with life lessons, value of sportsmanship and how to achieve goals all in a fun and non-intimidating environment is the key to keeping kids engaged. I'm grateful for the opportunity to share my experiences and message along the way to as many kids possible with TGA through their golf franchise programs."
Youth Athletes United recently acquired TGA Premier Sports to add the fast growing individual sports of golf and tennis to its other premier youth sports franchise programming, Soccer Stars, Amazing Athletes, JumpBunch and Little Rookies. Partnerships with professional athletes like Guise, help to inspire and impact youth while growing the sports in communities nationwide through local franchise activation. The brand also recently announced a partnership with tennis star Leylah Fernandez.
"We're very excited to have Danny join us as an ambassador for Youth Athletes United," said Adam Geisler, CEO of Youth Athletes United. TGA Premier Golf is one of the largest junior golf programs in the country and we wanted to align ourselves with someone who our kids could be impacted by and learn to love the game through. Danny will do that for us and be a great role model inspiring juniors to be lifelong golfers and helping us grow the sport along the way."
For the Guise family, golf is a true family affair with parents Joe and Debbie laying a foundation and pathway for Danny to achieve his dream. Danny began playing at a young age in large part due to his father, Joe, who helped develop drills and games to improve his son's skills as a youth, which lead him to an amazing junior golf career (55 wins) and college career at Wake Forest. Today, the senior Guise continues to help youth with drills and games as he is also a golf coach and the Assistant Director for one of TGA's top golf franchises in Southern Westchester (NY) and Fairfield (CT) counties.
Joe Guise said that he and Debbie are very excited to see their son give back to the game and share his golf experiences with junior golfers.
"There's value in working hard and trying to achieve a goal," he said. "Danny's path has not come easy, but his love, passion, and work ethic for the game exudes inspiration and gives the kids in TGA a role model to look up to and model their own pathway after. He loves working with kids and as parents, we couldn't be prouder to work with him and to see him give back to the game and impact these kids."
The younger Guise has already participated in a golf clinic with the TGA Long Beach franchise. Check out the video below of Danny working with the kids.
Please welcome our newest Youth Athletes United ambassador, Danny Guise! from TGA Premier Sports on Vimeo.
"Participating in the first TGA clinic in Long Beach was a thrill and to see up close how this franchise model directly impacts kids and is growing the game is really exciting," said Guise. "I'm looking forward to doing more clinics and seeing the excitement, focus and smiles on the kids' faces again similar to how the game and my dad impacted me when I was that age."
To learn more about TGA Premier Sports and its golf franchise model through Youth Athletes United, visit https://youthathletesunited.com/.
About Youth Athletes United
Established youth sports and activities brands Amazing Athletes, Soccer Stars and TGA Premier Sports come together under parent company, Youth Athletes United. With 15 – 20 years of success for each individual brand, a total 250+ units and 200,000+ children instructed nationwide each year, Youth Athletes United has earned trust in each community they touch. The brand's overarching mission is to help the world understand that every kid is an athlete and ultimately impact the lives of over one million children.
About TGA Premier Sports
TGA Premier Sports (TGA) is a leading introductory and recreational youth sports programming company specializing in Golf, Tennis and Team Sports (Cheerleading, Flag Football, Floor Hockey, Lacrosse, Ultimate, and Volleyball). Through an innovative franchise business model, TGA empowers passionate entrepreneurs to impact the lives of youth and families by bringing youth sports enrichment programs into their communities.
TGA franchises can be found in more than 77 markets across 23 states (plus Washington D.C.). Its continued growth has impacted more than 825,000 youth and made these sports available to 1.75 million families through its education-based programs and the TGA Sports Foundation, which provides access for all children and promotes the physical, educational, social, and character-building elements of these sports.